Currently market leader in the medical devices market, Laboratorios SL was founded in 1950, as a manufacturer of dental products.
In its beginnings Laboratorios SL maunfactured exclusively dental products under Swiss patents. Sometime later, the company switched its strategy towards an innovation and growth oriented business. This is why, 10 years later, Laboratorios SL started developing surgical products.
Currently the Company designs and manufactures products for a series of specialities including neurosurgery, orthopaedics and radiology. Laboratorios SL success has positioned the company as a referent in the medical devices sector for different specialities.
Assomedica  Co. Ltd is the official distributor of Subiton products on the territory of the Republic of Belarus, the Republic of Kazakhstan and the Republic of Uzbekistan.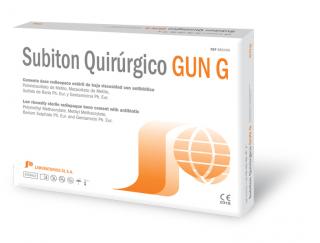 Cements Subiton from the company Laboratorios SL is designed for cementing and fixing prosthesis to bone tissue.
They are indicated for use in orthopedics and other areas of surgery where it is required to secure the prosthesis to the bone with a sterile fixative material.
Main advantages:
Bone cements of high viscosity:
Fast transition to a plastic state
Optimum working time
Excellent mechanical properties
Bone cements of low viscosity:
Increase operating time
Improved fixation to bone tissue, which increases the life of the prosthesis